Sehen sie, wie einfach es ist, poster mit unseren tempeln aufzuhängen
HOME, SHOPS, BIG STORES...
You can use our poster strips to hang posters, calendars, photos, prints and signs in an elegant, practical way and at the least cost.
2 strips are used for each poster. A rod is placed at the top, this holds the poster by hooks against the wall. At the bottom, a rod holds the poster securely in position to complete the aesthetics.
STANDARD PRODUCTION AND CUSTOM MADE PRODUCTION
Each standard size poster strip is shipped with one hanger. Custom orders are also available. For custom orders we ask that a minimum order for 50 pieces (for 25 posters) be placed.
You have the option of cutting any plastic poster strip on your own to match the size of your poster. (The strips can be cut by scissors or with a hacksaw).
Standard colors are: White, Black, Light Gray, Red, Blue, Green and Yellow.
Upon request, for quantities of at least 10,000 linear meters, we can produce customized poster strips to match a different color.
-
Bulk packaging

The quantity of strips sold by bulk in boxes comes with a matching number of hooks.
Strips sold in bulk, are often preferred by those who want to use the product for mounting posters, calendars, photos, or in a retail setting, or at exhibition stands or display cabinets etc…


- Transparent poly
bags
This package is specially produced for retail store resale or when you want to ship the poster with its temples.
Each pouch contains everything needed to hang a poster: 2 strips and 2 hooks.
Upon request we can customize a bag to display your logo, label's and b
ar codes.
The profile is designed to ease the insertion of a poster. Simply clutch the top of the rod to widen the gap to insert the poster. Then insert the hook.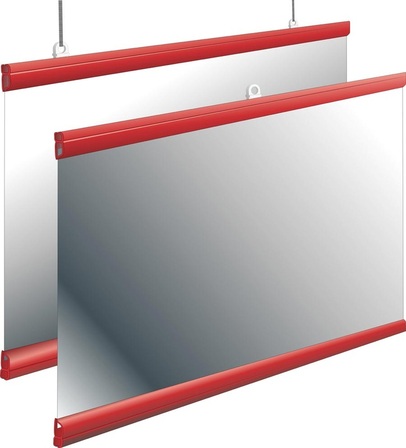 We always provide one hanger for each rod by any measure, unless otherwise requested. You choose whether to use one or two hooks.